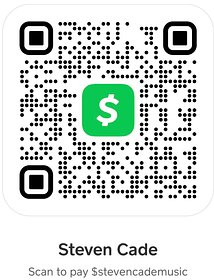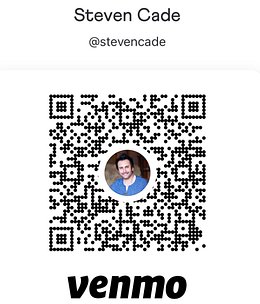 Make checks Payable to Steven Cade,
625 Bakers Bridge Ave., Ste. 105,
Franklin, TN 37067
Steven Cade Fan Support Page
The power of music has the ability to connect people together, transport them to a different time or place, and stir emotions on a deeper level than almost anything else in life. As an artist, I strive to make a real and lasting connection through my music, and reach each listener's emotions through my lyrics and songs.
I consider myself very blessed to have such an amazing fan base. The ongoing support you've given me over the years has made life-changing things happen in my career, and for that I am forever grateful. I will continue to create music to reach people at that deeper level and grow my fan base. If my music has made a connection with you, and you would like to continue to support my future music endeavors, I've created an online tip jar and contributions page. (If you would like to be a financial backer/partner with me for upcoming singles, videos, CD projects, or tours please reach out and together we can make something amazing happen.)
The faster I get support, the faster my career can advance. I currently do not have major backers (as of yet) such as a record label or corporation. Each contribution makes a great difference in helping accelerate my career and gaining exposure!
Thank you for visiting this page! Check my performance schedule and come out—I'd love to see you at a show! Please share my music with your friends and family…every share, like, comment, purchase, and dollar makes an incredible difference!
Every single dollar I receive in tips, CD and music sales, merchandise sales, and performance fees is crucially important in order for me to continue creating music and performing. Every dollar matters and is appreciated. I am proof that your support, tips, and prayers work!
My family and I thank you for your contributions to help support my career.
Blessings,
Steven Cade'
Here are areas where your contributions would go:
Gas to travel to/from shows
Production and studio rental fees Parking fees
Travel/tour expenses
Gear maintenance – wires, chords, guitar repair, guitar strings, electronics, sound systems, etc.
Marketing/Advertising
Producing and promoting Cd's
Web development
Digital flyers and branding development, artwork, social medial planning
Photography – photo shoots, stylist
Videos – producer and studio/location fees
Liability insurance
Merchandise
Membership fees – CMA, ACM, etc.
Hiring support musicians
Consultant fees
Attorney's fees
Tax Accountant prep for business .
Another way artists can succeed is to partner with your company and create theme songs, jingles, etc. as well as perform at your company functions. The company logo and information would appear on the promotion done for my shows, website, newsletter, and social media pages, offering a huge amount of exposure for your brand. If you or someone you know would like to expand their brand by partnering with me, please contact me!
To send a donatoin via Zelle please use billing@sky3entertainment.com